By Sara R
From Daily Kos
More than one person has requested that a community quilt be made for Scott Olsen, the ex-Marine who was wounded in the head at Occupy Oakland on October 25.
The NY Daily News is reporting that Mr. Olsen finally left the hospital today -- but he is far from well as of yet:
Olsen, who served two tours in Iraq, suffered a fractured skull at an Occupy Oakland protest on Oct. 25 after being struck in the head by a projectile.

Demonstrators contend it was fired by cops. The police and city have not said how they believe Olsen was injured, citing an ongoing investigation.

"He is out of the hospital as of yesterday or today, thank goodness," Adele Carpenter, a member of the nonprofit Civilian-Soldier Alliance, told Reuters on Friday.

In a blog post on the Veterans for Peace website, Carpenter wrote that Olsen "is struggling with speech, but is attempting conversations."
Shall we support Scott Olsen with some loving and supportive words on a quilt, something he can wrap up in any time?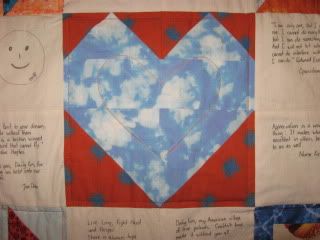 Detail from the Daily Kos quilt
Leave a message for Scott Olsen in the comments and I will transcribe it on muslin in archival ink.  My sister and I will stitch all the messages into a colorful quilt, something to let Scott Olsen know he is not alone.  If you can also help with the cost of making the quilt (materials and a bit of our time), we will be most grateful.  $10/message is suggested -- but please leave a message even if you cannot donate.
These are the community quilts we have made to date:
othniel (cellulitis and ensuing complications)
exmearden (cancer of heart and lung, RIP)
MsSpentyouth (brain tumor)
Moe99 (lung cancer)
Michelle Caudle (ovarian cancer, RIP)
BFSkinner (lupus)
Kitsap River (long wait for kidney donor that ended 2/18/11)
Frederick Clarkson (blood clots)
Dreaming of Better Days (lymphoma)
one bite at a time (lost house and belongings to fire)
Timroff (cellulitis)
Sol Fed Joe (multiple cancers and health problems)
Brubs (AIDS, immune reconstitution syndrome)
rserven (gall bladder infection with dangerous complications)
grndrush (brain tumor, RIP)
ImpeachKingBushII (needs liver transplant)
andsarahtoo (lupus)
Frank Cocozzelli (muscular dystrophy)
luvsathoroughbred (breast cancer)
Predictor (stroke and HIV)
Austex54 (caretaker to othniel)
Theodore Olbermann, RIP
cskendrick (antibiotic resistant infection)
Keith Olbermann (caregiver to father)
Juan (cancer)
Ana (a young horse belonging to Juan, hit by truck)
MA Liberal's mother (Alzheimer's)
Charles CurtisStanley (caretaker to Kitsap River)
Lorikeet (cervical cancer)
Dr. Lori (metastatic cancer)
ulookarmless (cancer, heart condition, stroke)
riverlover (caregiver to husband suffering from liver failure, now widowed)
Melody Townsel (caregiver to dying father, now deceased)
dadanation (AIDS)
Dr. William F. Harrison (leukemia, RIP)
Larry Bailey (sudden loss of partner to heart attack)
ramara (adopted son with fetal alcohol syndrome)
Noor B (herniated disk from car accident)
Louisiana 1976 (fibromyalgia, severe arthritis, depression)
stumpy (MS, stroke, RIP)
bleeding heart's niece (cancer, RIP)
escapee (failure of corneal surgery)
SarahLee (lymphoma, Lyme Disease)
Bustergirl (ovarian cancer)
mimi's niece (cancer)
ZenTrainer (breast cancer)
Miss Blue (severe injury to shoulder, anxiety over coverage for surgery)
Granny Doc (bladder cancer)
mango (heart attack)
nudger (ovarian cancer, RIP)
DaNang65 (heart condition)
Lt. Choi (exhaustion)
Nurse Kelley (spinal stenosis)
Ben Masel (lung cancer, RIP)
Otterary Scribe (caregiver, grieving grandfather, grieving widower)
Aji (autoimmune diseases incl. fibromyalgia, inflammatory arthritis, & Chronic Epstein-Barr Virus Syndrome)
JaxDem (suddenly widowed)
DavidW (AIDS and other undiagnosed illness)
Jester the Marine (facing amputation of leg)
peregrine kate (endometrial cancer)
mimi (grief due to family illnesses)
alliedoc (endometrial cancer)
labwitchy (diffuse scleroderma)
Daily Kos (celebrating community)

Goldie inspects labwitchy's quilt and gives it four paws up
We are in the process of quilting belinda ridgewood's quilt (it will be done soon).  Princesspat's messages are transcribed and we are beginning to piece her quilt.  Patriot Daily News Clearinghouse's quilt will be started this week, as well.  Message collection is not yet complete for Sensible Shoes.
These community quilts are planned:
Plutonium Page (pulmonary embolisms, pulmonary infarction)
MsGrin (life long heart problems requiring multiple surgeries)
UnaSpensor (Lyme disease)
MA Liberal (caretaker to her mother who has dementia)
paradox (cyclical vomiting syndrome, PTSD, depression)
Stranded Wind (Lyme Disease and other health issues)
woodtick (caretaker to mother who has Alzheimer's)
Ellinorianne (rheumatoid arthritis and fibromyalgia)

Boots likes the feel of the Daily Kos quilt...
PAYPAL LINK FOR SCOTT OLSEN'S QUILT - THANK YOU!