By Sara R
Daily Kos member
The Community Quilt Project had its origin in friendship quilts -- quilts bearing messages or signatures of people.  And since the very first Yearly Kos, signature quilts have been a feature of our blogging conferences.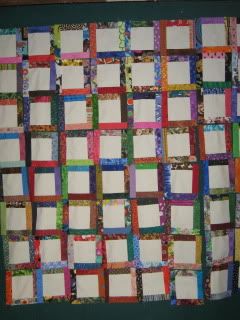 This year's signature quilt, sign it at NN11!
They are an analog way of bringing people together in a digital age -- and they also have the benefit of raising money for good causes.  This is an old, old American tradition -- signature quilts have been used for good works since the 19th century.
Lessons were learned in the making of the first project, the Donkey Quilt, which was organized at Street Prophets.  This quilt was made by people who had never met.  The signatures were gathered by many people and sent by mail.  This is a hard way to organize a quilt because:
People will forget to mail patches -- or lose them.
They will use the wrong pen.
They will sign in the wrong place.
So if you plan on doing a quilt by mail, expect to be patient -- and have a backup plan for patches that go AWOL.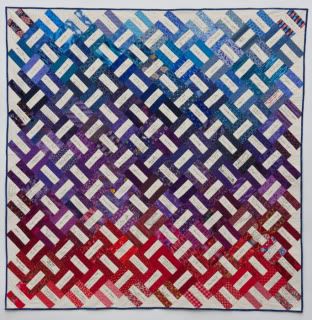 "From Red to Blue", signed at Yearly Kos 2006, Las Vegas, NV
It is much easier to get a quilt signed at a large conference.  You can make sure the proper pen is used, so that your signatures can be heat set for permanence and won't have faded by the time your quilt is hanging in the Smithsonian!

"All Buttoned Up", signed at Yearly Kos 2007, Chicago, IL
You can also make sure the signatures are in the right place.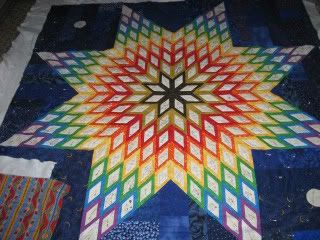 "All My Relations", signed at NN08, Austin, TX
It's not as easy as it looks to organize one of these signings!
This year, I won't be present.   I'm doing really well after my surgery but I know I don't have the energy it takes to work a table at a Netroots Nation conference.  Oke has kindly offered to run our table (which will only be open Saturday and Sunday -- it will be next to the Netroots Nation table).  But Oke is going to need some help.  Navajo will be helping at times on Saturday.  But Oke will need some other volunteers.  People at the table will:
Take donations for the Community Quilt Project
Get signatures on this year's quilt blocks and note them for posterity
Talk to people about how the Community Quilt Project might help other non profits by making quilts and help low income quilters by paying for their work
Also, we will need folks to go out and get celebrity signatures.  This quilt will be benefiting the Community Quilt Project itself and I would really like to see the quilt have some real star power.  If you are willing to be an autograph hound for our cause, raise your hand!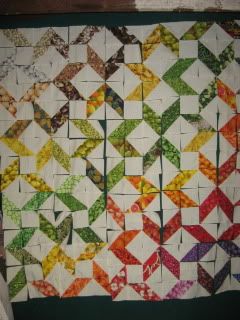 Quilt for Feeding America, signed at NN10, Las Vegas, NV
Just make sure that the blocks are signed right side up with the proper pen.  I am sorry to say that an enthusiastic autograph hound got Alan Grayson's signature upside down last year!  Not that we mind, really...but rightside up is better.
I've started by signing the first block.  There are sixty-four altogether and up to four people may sign each one.
Originally posted to Sara R on Sun Jun 12, 2011 at 05:20 PM PDT.
From Daily KOS: Organizing a Signature Quilt -- Call for Autograph Hounds at Netroots Nation